The 2021 Subaru Love Promise Community Commitment Award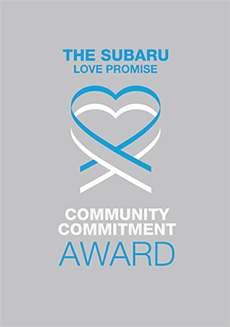 We've been nationally recognized for our dedication to our community and the Subaru Love Promise.
We're honored to receive the 2021 Subaru Love Promise Community Commitment Award. This award nationally recognizes Subaru retailers who are making the world a better place while demonstrating an outstanding commitment to supporting passions and causes in local communities. These efforts are focused in important areas such as the environment, community, health, education, and pets.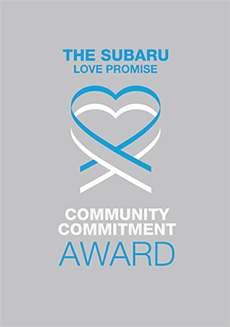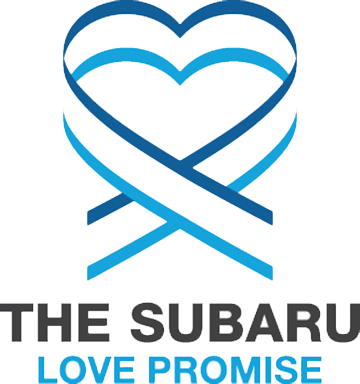 What is the Subaru Love Promise?
Subaru and our retailers believe in making the world a better place and the Subaru Love Promise is our vision of respecting all people. This is our commitment to show love and respect to our customers and to work to make a positive impact in the world.
How is Dutch Miller Subaru dedicated locally to the Love Promise?
Our Love Promise can be seen in various partnerships with local charities and non-profits. We're grateful for the opportunity, not only to be a part of our community, but to serve it as well.
Love Promise Stories from Dutch Miller Subaru
Subaru and Dutch Miller Subaru believe in making a positive impact on the communities in which we live and work. We uphold that belief through our Love Promise Community Commitment. Every month, we select inspiring stories from customers and partners from around our area who strive to support our collective commitment and feature them here
Keeping Bridgeview Elementary Hydrated! - Stefhanie S
The pandemic, we all know about the stresses of Covid-19 and what rules are set forth with social distancing, the do's and don'ts of being in public. Well, with that being said, our local school board, Kanawha County Board of Education, made it to where we could not use the water fountains in the school, and for the first semester sent bottled water to the schools. That came to an end after the winter break. My child goes to Bridgeview Elementary Center, we love our school and our wonderful staff and students there! I try to stay active with the school, always involved in their activities and PTO. One of the amazing teachers contacted me, telling me about the end of the bottled water for our students. Being a low income school area, a lot of the families need help, and we could not expect them to donate or even send their children to school with drinks, so that's when I turned to my company. Dutch Miller Subaru, my employer, loves our community. They're always helping anyway they can, and I knew I could count on them to help my sons school! I went to our GM, Dakota McNeely, and told him about the situation. How, we need to keep the students of Bridgeview Elementary hydrated! He agreed, staying hydrated and not having to worry about needing a drink is very important. It takes a burden off of the teachers, staff, and well, the parents too. Dakota gave me the go ahead to get to our local Sams Club, and purchase the water! Well, needless to say I was over flowing with excitement knowing what was about to happen! I ended up getting 70 cases of water, ok I know that doesnt sound like a lot, but considering each case had 40 bottles of in it, its a LOT! More than even I expected it to be! I was thinking I could load it in the back of my husbands truck, yeah that didnt happen! I had to get his company's flat bed tow truck to pick up the water and deliver it to the school! The math equaled out to being 2800 BOTTLES OF WATER!!!! When we arrived at Bridgeview, the janitor wasn't ready for what was next. I told him I was there to unload water for them, and he came with a little cart. I said well, I hope you have more where that one came from, because we have a lot of water! He was pleasantly surprised! Mrs. Vaughn, the principal, was overjoyed with the amount of water that was coming to her students! She said this should be enough to last the rest of the school year! I was excited with that statement, because that's what I was going for! I was so proud of my company for this generous donation, and not only because they have a Love Promise through Subaru, but because they really do care about their community.
---
Workforce Development - Dural M
In 2019 Keep Your Faith Corporation launched a workforce development program modeled after the 33-6-3 workforce framework coined by Coalfield Development. In this workforce development model, the 40 hours work week is divided between personal and professional development hours while work-crews support a variety of projects that create assets for local residents, communities and businesses. By offering positions in the industries of construction, agriculture, and voltage high/low fiber optic wiring, we are working to promote a diversified economy in counties where there are barriers to economic growth and opportunity. Funds received from the Share the Love event would go to support the Workforce Development program. We will establish a permanent location for the program and continue to provide a pair of work boots, gloves and a tool belt to program participants. Thank you Dutch Miller Subaru for the support and LOVE. Dural KYFC
---
Dutch Miller Goes Above & Beyond For Pets! - Sarah T
Kanawha-Charleston Humane Association is so, so thankful for the generosity of Dutch Miller Subaru. For the third year in a row, they have hosted an adoption event at their Patrick Street Plaza location. Dutch Miller Subaru generously sponsors the adoption fees at the event, but it's more than just the sponsorship. They genuinely care and want to make a difference! That's why the Dutch Miller team also collected over 8,000lbs of dog and cat food for our shelter. This year we had a record number of animals adopted in one event - 56 animals found loving, forever homes! All of us, shelter staff and Dutch Miller staff alike, cheered at the end of the event. We all celebrated finding so many animals great homes. They never hesitate to jump in to support our shelter, and we are so grateful to them for all they have done and continue to do for us! You all are amazing, thank you!
---
Children's Home Society of West Virginia - Chris F
The Children's Home Society of West Virginia is a private, non-profit child welfare organization founded in 1896. The Society provides comprehensive child welfare, behavioral health, social casework, and advocacy services. Last year the Society provided services to 16,712 children and families from thirteen primary locations throughout the state. The mission of the Children's Home Society is to promote the well-being of children. Our Current efforts are directed at helping children find lifetime families, protecting and nurturing children, and helping preserve and strengthen their families. On behalf of the Children's Home Society of West Virginia and the children and families, we care for we would like to extend our appreciation and thanks for allowing us to be a part of the Dutch Miller Subaru, Share the Love Campaign. Most recently, West Virginia has seen a major drug problem throughout the state. There are more foster children entering into state custody than ever before. During this year's Legislative session, it's been said West Virginia is in a foster care state of emergency. On average, the Children's Home Society assists 362 children statewide in our foster care program. The funds raised through the Share the Love Campaign will go directly at assisting the children currently in the Children's Home Society's foster care program, as well as recruiting more foster homes for the children that continue to enter state custody. It's organizations like you, who give back to the communities that allow us to take care of West Virginia's children. Thank you for your support. Sincerely, Chris Freeman Director of Communications
---
Subaru Loves Learning Book Donation - Leslie B
"Students at DuPont Middle School are a majority low SES. These students depend on their free breakfast and lunch they are receiving at school. They depend on the 1:1 Technology ratio. They depend on the attention and support they are getting from their teachers at school. Thanks to Subaru Loves Learning my students are going to receive another experience at school that they aren't necessarily getting at home. My students are going to love these books! Thank you Dutch Miller Subaru!" Leslie Burford 8th Grade Science DuPont Middle School
---
Dutch Miller Subaru partners with Recovery Point - Dakota M
Recovery Point Huntington serves men from the local region who are battling substance use disorder and seek long-term recovery. We offer our services at no cost to the individual. Through taking ownership of the disease of addiction, Recovery Point clients are highly visible in the community and become free to rebuild their character, relationships, and lives. The Recovery Point Huntington program is based on the principles of unconditional love and personal accountability. The residential program follows a peer-driven recovery model based on the 12 steps of Alcoholics Anonymous. This model of recovery has been successful for almost 30 years. Residents must attend on-site and outside support meetings and follow the evidence-based curriculum to complete the program. Recovery Point Huntington is cost-effective, providing services at a cost of $25 per client per day instead of $50 a day in jail or $250 a day at a medical treatment facility. It is one of the largest organizations providing addiction recovery support services in the state. Thanks to generous donors like Dutch Miller Subaru, men and women are given the tools to recover from addiction by engaging with our programs. Their kindness to individuals fighting to overcome this devastating disease in our community is genuinely appreciated.
---
Subaru Loves Pets - Adam C
Kanawha-Charleston Humane Association was proud to partner with Dutch Miller Subaru for our first ever Subaru Loves Pets month. The donations Dutch Miller Subaru collected for us couldn't have come at a better time - we were dangerously low on food but thankfully have a good amount to keep us going. We wrapped up the month with an adoption event at the dealership, and found loving homes for 20 pets that day! We can't thank Suburu and Dutch Miller Suburu enough for their commitment to saving the lives of homeless pets!
---